2022-04-12 | Brand New Shantui DH16-K2 XL Bulldozers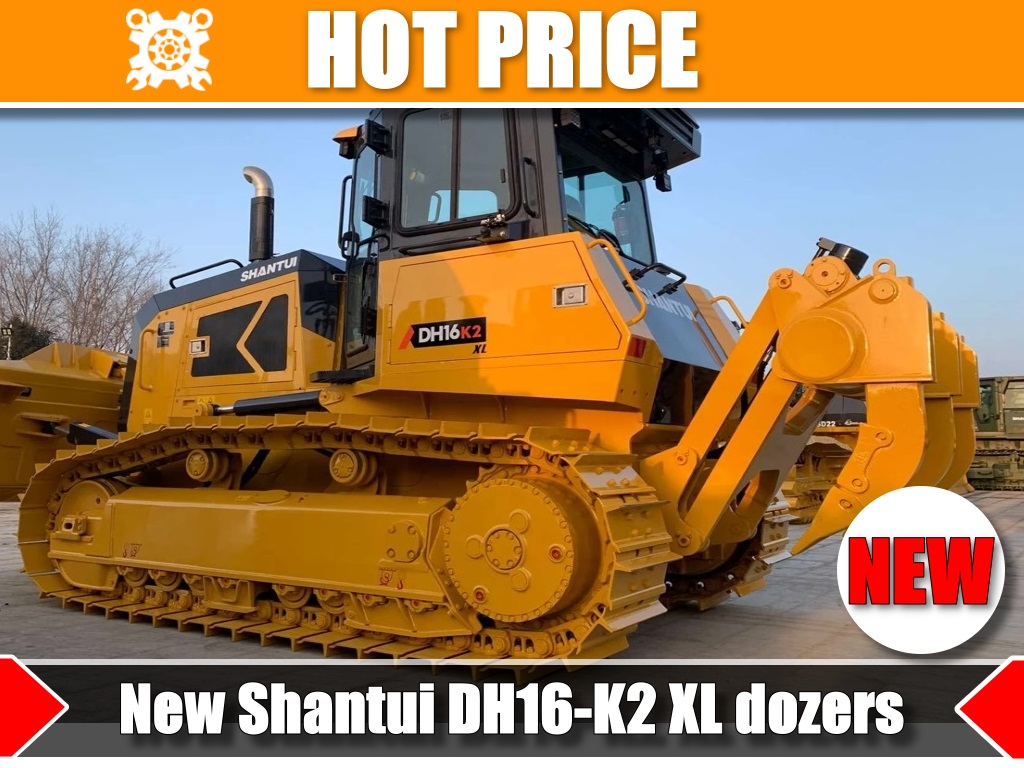 OUR NEWS ABOUT AFRICULTURE
Read:
6039
Copy page link
Share link to:
Facebook
|
Twitter
---
Brand New Shantui DH16-K2 XL (Extended version) Tracked Bulldozer
The best and most reliable bulldozers from a global brand at the lowest price.
Units 10 for sale
OVERALL WEIGHT 17635kg/18800kg
Color Yellow
Warranty 2 Year
Certification: CE
Engine USA EPA TIER 4 FINAL/EU Stage IV
142kW/2100rpm , US EPA Tier 4 final/EU Stage Ⅳ emission regulation.
Gradeability 30
BLADE TYPE: VPAT-Blade
Ripper: 3-shank ripper
Blade Width Straight Tilt Blade 3725 * 1315
Dozing Capacity Straight Tilt Blade 6.4
Climate Adaptability -30 to 40 Degree
Other Condition Adaptability Water Land, Normal Land, Desert Land, swamp
Transport Package Bulk
Specification EEC EPA
Trademark FOTMA
HS Code 84291190
Production Capacity 100/Month
The installed N67 electronic control engine conforms to the EPA Tier4final/EU Stage IV emission regulation, featuring stronger power and higher energy-saving and environmental-friendliness. The after-treatment system adopts FPTs unique HI-eSCR technology, requiring no external EGR. The 600h oil maintenance interval reduces the maintenance costs.
Special prices for:
Africa, Mozambique, Tanzania, Namibia, Kenya, Sudan, Nigeria, Morocco, Zimbabwe, South Africa, Ethiopia, Ruanda, Ghana, Cameroon, Morocco, and for India, Malaysia, Australia, New Zealand, Kuwait, Jordan, Kazakhstan, Kyrgyzstan, Mongolia, Ecuador, Panama, Venezuela, Argentina, Brazil, Chile, Algeria, Bolivia.
Lowest prices and great discounts from multiple units.
Please see more about this item »
---
---
Get more information from us
agro.africa-uk.com latest arrivals
agro.africa-uk.com the best offers
NEW Agricultural machinery® the best Combine Harvesters
NEW Agricultural machinery® the best farm tractors
agro.africa-uk.com LATEST NEWS
All of our agriculture machinery and other equipment comes with a full warranty and is subjected to a thorough technical inspection and workshop service prior to delivery. Our sales team have a wealth of shipping experience, and will undertake all logistics as well as related paperwork on your behalf, to ensure the process is as turnkey, and hassle free, as possible.
Contact us with any questions about our products or any inquiries as to how you can become better educated about our production and finance.
We look forward to working with you to make your immediate environment more sustainable and efficient.
sitemap.xml for Google
|
Panorama photos created by wirestock - www.freepik.com
---
X
My Cart
Save any items in your bag and when you're ready, just order.